New Zealand has some great companies. Many of them do well on the global stage and make for great investments. But investing in New Zealand also poses some challenges. These include the relatively small size of our financial markets, a lack of breadth in the types of companies which operate locally, and poor liquidity (the inability to buy and sell in and out of companies when you want to).
At ANZ, investing globally helps us overcome these challenges. While we will continue to support local companies, we are constantly looking overseas for some of the best investment opportunities. In this article we explore how we do this and why this approach makes sense.
How we access the overseas markets for our investors
We've partnered with some of the world's leading investment managers to invest in some of the best international companies for our investors. We accept that it's difficult, from our offices in New Zealand, to research the entire universe of companies ourselves. That's why we've chosen managers that have true global reach, with people on the ground in numerous countries who are best-placed to research local companies before they invest. What's more, they share our belief that taking an active investment management approach delivers the best outcomes for our investors over the long term.


Size matters
New Zealand makes up less than 0.1% of the world's share market. Australia, our closest neighbour (and where most New Zealand investors have tended to look for broader investment opportunities) makes up just over 2%. This means that over 97% of the world's investment opportunities sit outside of our immediate geographic area.
Investing globally lets us access the powerhouses of the US, Europe, China and Japan, and also benefit from the growth in developing regions, such as India and Latin America.
The biggest company in the world (by market size) is tech-giant Apple Inc. In fact, Apple alone, is ten times the size of the New Zealand share market.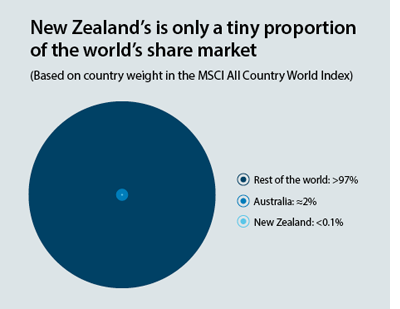 Infographic text description
New Zealand's is only a tiny proportion of the world's share market.
(Based on country weight in the MSCI All Country World Index).
Graph shows:
- Rest of the world: greater than 97%
- Australia: approximately 2%
- New Zealand: less than 0.1%
More sectors to choose from
Investing outside of New Zealand (and Australia) also gives us access to sectors that are not as investable here at home. The New Zealand market has its fair share of commodity, utility (e.g. electricity) and healthcare companies, but it does not provide as much access to industries such as manufacturing, pharmaceuticals or the technology sector, all of which present different types of opportunities for investing.
And a greater choice of companies
It also gives us access to large multi-national companies which operate in well-established markets. We can invest in household names, such as Microsoft, Samsung, Johnson & Johnson, Amazon, Visa, Walt Disney and Nestle.
We can also invest in companies that may be more unfamiliar to our investors. For example, our actively managed international share holdings include HDFC Bank (one of India's largest listed companies) and MercadoLibre (a South American e-commerce company similar to Amazon), both of which have delivered returns of around 100% over the last three years.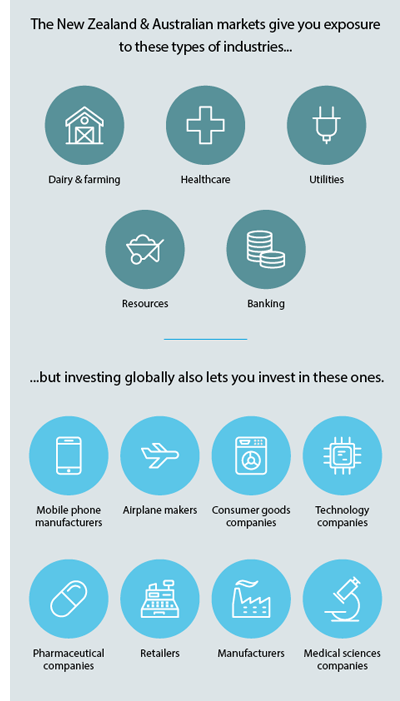 Infographic text description
The New Zealand and Australian markets give you exposure to these types of industries:
- Dairy and farming
- Healthcare
- Utilities
- Resources
- Banking
But investing globally also lets you invest in these ones:
- Mobile phone manufacturers
- Airplane makers
- Consumer goods companies
- Technology companies
- Pharmaceutical companies
- Retailers
- Manufacturers
- Medical sciences companies.
Investing globally lowers your investment risk
No single market consistently outperforms over time. So it makes sense to hold a portfolio that's spread across a number of markets and sectors (known as diversification). Introducing overseas exposure into a broad investment portfolio decreases overall risk, as it lowers the reliance on one specific market generating all of your return.
In fact a number of recent events have highlighted why it makes sense not to have an overreliance on New Zealand alone. Earthquakes, flooding, landslides and other extreme weather events are a reminder of the environment we live in, while mycoplasma bovis and PSA (a disease affecting kiwifruit vines) are examples of some specific risks that have been faced by our biggest exporters. So it's sensible to lessen the risks by investing in other markets also.
And finally, different countries offer different investment opportunities
Different economies around the world are at different stages of their growth cycle. Each have different political environments, their own local risks and can be 'more' or 'less' attractive from an investment (valuation) perspective. This allows the astute investment manager to pick those countries, markets or individual companies which they believe have the potential to do well, while trying to avoid those they think may struggle.
At ANZ we recognise that opportunities abound in the overseas markets. And while we've focused on share markets in this article, the same holds true for the global fixed interest (bond) and listed property markets. We're confident that through careful research and analysis, coupled with our active investment management approach, we can continue to invest in some of the better-performing international companies for our investors.