Share market falls - no cause for alarm
As you may have seen in the media, global share markets fell sharply at the end of last week. You may be wondering what impact this is having on your investment portfolio and what it means for you.
What has happened?
Global share markets have been volatile. Strong economic data in the US prompted investors to worry that interest rates there may need to rise faster. Higher interest rates make it more expensive for consumers and businesses to borrow, and this can constrain growth. A number of other factors have also been in play. Trade concerns between the US and China have been hanging over markets, as have the upcoming mid-term elections in the US.


How did markets react?
In the US, the S&P 500 Index has fallen 5.04% in October (at the time of writing), with the sharpest falls coming in the last few days. Technology, and some consumer-related companies, bore the brunt of the heavy selling. The New Zealand market took its lead from overseas markets, with the NZX 50 Index down 4.02% over the same period.
As is often the case with sharp sell-offs such as these, markets appear to have regained their composure and have bounced back a little.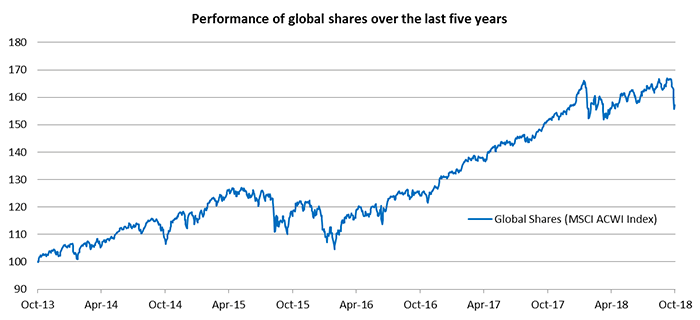 Source: ANZ Investments, Factset, re-based to 100
While these may seem like big falls, it's important to remember that global share markets have enjoyed a record-breaking run over the last ten years, with many markets touching new record highs as recently as last month. The falls take the US market back to levels last seen in July, while the New Zealand market is back to levels seen in June.


What does it mean for you?
Volatility is part and parcel of investing and at ANZ Investments we are focused on long-term goals rather than short-term 'noise'. Global economic growth remains strong and we believe the fundamentals for good share market performance remain in place. We are of the view that once trade tensions ease and US mid-term elections have passed, global growth will continue to pick up and will be more synchronised.
It's also important to remember that our multi-asset-class investment portfolios are well diversified to help manage volatility. For example, bond markets have risen in response to the sell-off in share markets, which has provided positive returns from that asset class to portfolios.
There may continue to be some 'noise' in the media and markets could remain turbulent for some time. However, we believe that maintaining good investment disciplines and staying focused on long-term goals is more important than ever.
It's important you take the time to consider your fund options and invest in a fund that suits your investment objectives, timeframe and risk/return profile. We have a handy Risk Profile Tool, which you can use to figure out which fund is right for you. If you want personalised advice, contact our Wealth Direct team on 0800 269 238.