How has the fund performed?
Performance as at 31 March 2022
Performance is after the annual fund charge, and before tax and membership fees (if applicable).
What happened this quarter (three months to 31 March 2022)
The Australasian listed property sector was not immune from the global markets sell-off, with New Zealand and Australian listed property indices ending the quarter lower, falling 6.1% and 7.1% respectively.
The weakness came as bond yields rose to multi-year highs, a scenario where defensive and dividend-yielding assets, such as property, generally underperform. Furthermore, rising interest rates can lower the perceived value of properties and increase borrowing costs.
One of the fund's strong conviction trades, an underweight to Argosy Property (the fund's largest underweight position), benefited relative performance over the quarter, with the property portfolio management company ending down more than 13%. Fund managers, such as Argosy, were some of the worst performing as their portfolios struggled with rising interest rates, making their assets less attractive on a valuation basis.
The theme of weakness among fund managers also detracted from broader fund performance, with its overweight to fund manager Charter Hall Group. Shares in the company ended the quarter down nearly 20%, hitting their lowest level in around nine months.
Despite the weakness among various property fund managers, we believe they should still attract offshore interest from the likes of pension and sovereign funds, which should see growth in their assets under management.
The fund's largest overweight position is to Stride Property. Despite delivering a small loss over the quarter, its outperformance to the benchmark helped the broader fund performance.
Finally, another trend we saw during the quarter was broad-based weakness among the retirement village sector. The companies struggled on waning sentiment among the New Zealand housing sector – a strong barometer for the sector – as rising mortgage rates saw investors prepare for a housing slowdown. This meant the fund's overweight to Oceania Healthcare and Summerset Group held back performance, with both ending the quarter down more than 10%.
---
Need more information?
What does the fund invest in?
The fund invests mainly in New Zealand and Australian listed property assets. Investments may include:
companies, funds or trusts that invest in property and are listed or intend to list, and
cash and cash equivalents.
This chart shows the mix of assets that the fund generally intends to invest in - 100% listed property.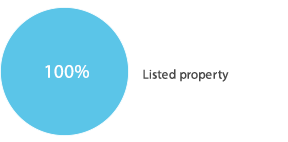 See the fund's actual investment mix on page 3 of the fund update.