Buying your first home with KiwiSaver
First home buyer? Find out how KiwiSaver could help you into a home of your own.
From Thursday 21 October until Monday 15 November we'll be unable to process some KiwiSaver full withdrawal payments, due to a planned systems upgrade with Inland Revenue. In some situations, we will only be able to provide partial payments over this period. We expect to be fully operational again from Tuesday 16 November, when we'll finalise any outstanding payments. Thank you for your patience.
First home withdrawal
If you're eligible, you can use your KiwiSaver savings to either buy your first home or buy land to build your first home on.

---
Are you eligible?
To be eligible for a KiwiSaver first home withdrawal, you must:
Have been a member of a KiwiSaver scheme or complying superannuation fund for at least three years.
Have not owned a home or land before (previous home owners may still be eligible, Kāinga Ora can determine if you're eligible as a previous home owner. Find out more at kaingaora.govt.nz).
Be buying a home or land in New Zealand.
Intend to live in the home or on the land you're buying.
Have not made a first home withdrawal before.

---
How much can you withdraw?
You can apply to withdraw all your KiwiSaver savings to put towards a home or land, except for:
$1,000.
Any amount you may have transferred from an Australian complying superannuation scheme (if applicable).
Any Government contributions received during any period you lived overseas and didn't have permanent residence in New Zealand.
---
---
---
To apply for a first home withdrawal
Just complete our simple online form and we'll be in touch. Or download, complete and return a copy of the KiwiSaver first home withdrawal application form.
---
First Home Grant
The First Home Grant is offered by Kāinga Ora (previously known as Housing New Zealand). It's designed to help eligible KiwiSaver members get into their first home.

---
Are you eligible?
Check the First Home Grant eligibility requirements at the Kāinga Ora website.

---
How much could you get?
The amount of the grant depends on whether you're buying an existing home or building a new home, and how long you've been contributing to KiwiSaver.

---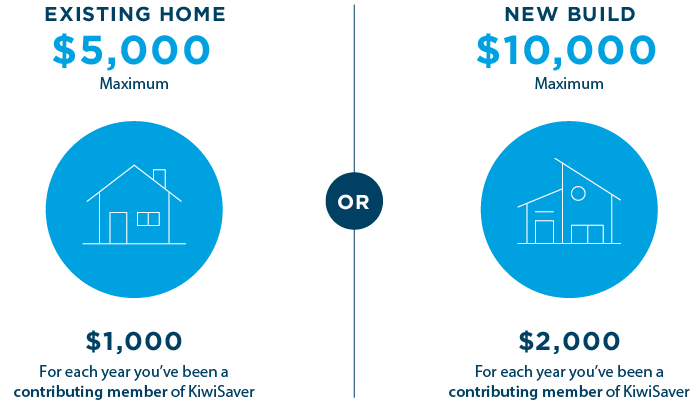 ---
Infographic text description
If you're buying an existing home you can receive $1,000 for each year you've been a contributing member of KiwiSaver, up to a maximum of $5,000.

If you're buying a brand new home you can receive $2,000 for each year you've been a contributing member of KiwiSaver, up to a maximum of $10,000.
---
How do you apply?
You can find more information, including eligibility criteria and the application process, on the Kāinga Ora website.
Other ways ANZ can help you into your first home
Whether you're thinking about buying or building your first home, talk to ANZ. We can help you every step of the way, from explaining the process, to helping you apply for a home loan. 
---
---
Take the first step
Even if you don't have your full deposit saved, one of our ANZ Home Loan Coaches can help you through the journey.
Lending criteria, terms, conditions and fees apply.
From overseas: +64 9 356 4000
(0800 ANZ ADVICE)
If you wish to speak to an external financial adviser, call 0800 736 034 and we'll put you in touch with one.