How has the fund performed?
Performance as at 31 March 2022
Performance is after the annual fund charge, and before tax and membership fees (if applicable).

What happened this quarter (three months to 31 March 2022)
Against the backdrop of a challenging period for international financial markets, the fund fell over the quarter. However, while it lost value, the manager's decisions meant it outperformed the market's return.
The listed property sector was not immune from the global markets sell-off, with international property markets all ending the quarter lower. Bond yields rose markedly during the quarter in response to expectations of interest rate hikes from the world's central banks. Typically, when bond yields rise, this reduces the attractiveness of other high-yielding asset classes (such as listed property). Also, rising interest rates can lower the perceived value of properties and increase borrowing costs for Real Estate Investment Trusts (REITs), in which the fund invests.
Almost every sector delivered negative returns as investors digested rising interest rates and the ramifications for inflation and global growth. The Russia-Ukraine conflict added further uncertainty, particularly in Europe, given its reliance on Russian energy – making that region the worst performer. Healthcare was one of only two sectors to gain, due to its more defensive characteristics, while hotels also did well, thanks to the reopening of global economies and borders.
Some of the fund's long-standing overweight positions contributed positively to the fund's relative performance over the quarter, with Welltower and Kilroy Realty gaining 11% and 13% respectively. Welltower is a REIT that invests in healthcare infrastructure in the US, so it benefitted from the strong performance of that sector.
Meanwhile, French company Klepierre, Europe's second-largest publicly traded mall operator, saw its share up over 11%. There did not appear to be any specific news driving its gains, but perhaps declining COVID-19 infection rates across Europe was supportive for this company, which operates in the retail sector.
Contributing negatively to performance was Invitation Homes, the fund's second-largest overweight. Invitation Homes is a single-family home leasing company in the US, and its shares struggled amid broad-based weakness among home builders, given supply chain issues and rising interest rates.
---
Need more information?
What does the fund invest in?
The fund invests mainly in international listed property assets. Investments may include:
companies, funds or trusts that invest in property and are listed or are soon to be listed, and

cash and cash equivalents.
This chart shows the mix of assets that the fund generally intends to invest in - 100% listed property.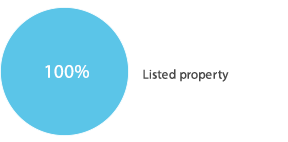 See the fund's actual investment mix on page 3 of the fund update.
---