ANZ Default KiwiSaver Scheme Balanced Fund
Fund report as at 30 June 2021
How has the fund performed?
Performance as at 30 June 2021
Performance is after the annual fund charge, and before tax and membership fees (if applicable). 
What happened this quarter (three months to 30 June 2021)
Global share markets had a particularly good quarter, thanks to some strong company earnings and an easing in inflationary concerns. Shares also benefited as the global vaccination roll-out continued at pace, meaning an easing in lockdown restrictions and subsequent pick-up in growth.
Global bond markets also rose, albeit more modestly. This came as central banks in the US and Europe reiterated their view that the current inflationary pressures were likely to be transitory.
The fund's tactical positioning was beneficial as it was overweight to the strong-performing share markets and underweight to weaker-performing bond markets. Favouring international shares over New Zealand shares also helped, as did the overweight to international property – one of the better-performing asset classes this quarter.
Strong manager selection within international bond holdings helped, with notable outperformance being delivered by our corporate bond manager.
The fund maintains its current positioning of overweight to international shares, Australian equites, listed property and listed infrastructure. We expect these asset classes to deliver stronger returns as more countries reopen for business post COVID-19 lockdowns, and as global growth recovers.
---
Need more information?
How the fund has performed over time
The fund aims to achieve (after the fund charge and before tax) over the long term a moderate yearly return allowing for moderate movements of value up and down including occasional negative yearly returns.
The graph below shows the value of a $1,000 investment made at the time the fund launched.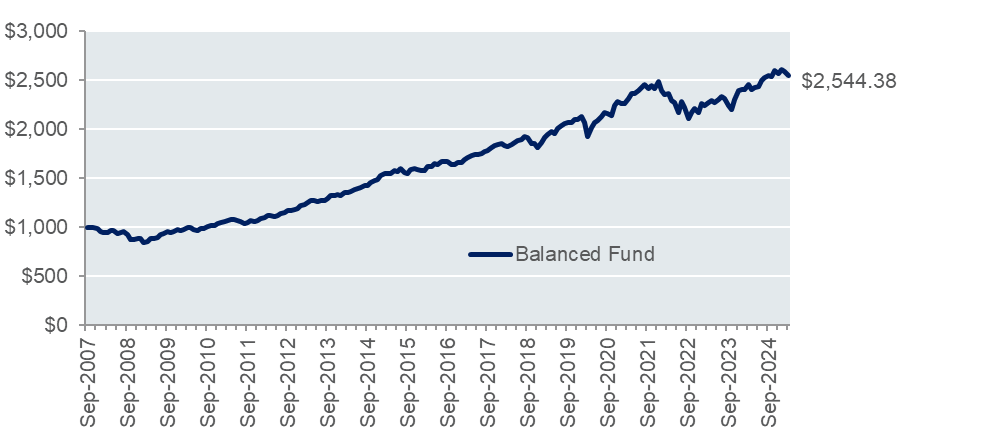 Line graph text description
The x-axis (horizontal) shows annual dates from September 2007 to September 2020. The y-axis (vertical) shows values from $0 to $3,000 in $500 increments. The line is labelled 'Balanced Fund'. The line starts at a value of approximately $1,000 for September 2007. The trend is downwards until a low of approximately $800 between September 2008 and September 2009. The trend is then upwards, other than small dips between September 2018 and September 2019, and between September 2019 and September 2020. The line finishes at a high labelled $2,400.64 sometime after September 2020.
Performance is after the annual fund charge and before tax and membership fees (if applicable). 
What does the fund invest in?
The fund invests in similar amounts of income assets (cash and cash equivalents and fixed interest) and growth assets (equities, listed property and listed infrastructure). The fund may also invest in alternative assets.
This chart shows the mix of assets that the fund generally intends to invest in.
Pie graph text description
Income assets:
- 10% Cash and cash equivalents
- 40% Fixed interest
Growth assets:
- 6% Listed property
- 42% Equities
- 2% Other (listed infrastructure)
See the fund's actual investment mix on page 3 of the fund update.
---