How has the fund performed?
Performance as at 31 March 2022
Performance is after the annual fund charge, and before tax and membership fees (if applicable).

What happened this quarter (three months to 31 March 2022)
The Conservative Balanced Fund fell over the quarter in what was a challenging time for global financial markets. While it means the fund's return over one year is now broadly flat, its long-term track record remains intact.
The fund has a significant weighting to bonds. Bond markets have had a particularly tough time since the start of the year, as persistently high inflation in most economies prompted key central banks to raise interest rates. Bond investments tend to underperform when interest rates are rising and, with further hikes expected, the size and pace of the sell-off in bonds during the quarter was significant.
International equity markets also struggled against the backdrop of rising interest rates, uncertainty brought about by the Russia-Ukraine conflict and higher oil prices.
Despite broad-based weakness in financial markets, our underweight to weak-performing bond markets and overweight to cash and strong-performing infrastructure investments was beneficial to relative performance. However, this was offset by negative selection within our international equities holdings, with three out of four of our underlying managers underperforming the market.
We remain overweight to growth assets (international equities, property and infrastructure) and underweight to international fixed interest. While there's the potential for further market volatility, we are positive on equities over the medium term.
We understand it's hard seeing the value of your investment going backwards, but it has been a challenge with both bond and equity markets falling at the same time. As hard as it is, market falls are part and parcel of investing, and even our more conservative funds may deliver negative returns from time to time. However, we would reiterate the importance of taking a long-term view on investing and, in this regard, the fund has delivered above-average returns over the longer term.
---
Need more information?
How the fund has performed over time
The fund aims to achieve (after the fund charge and before tax) over the long term a modest to moderate yearly return allowing for modest to moderate movements of value up and down including occasional negative yearly returns.
The graph below shows the value of a $1,000 investment made at the time the fund launched.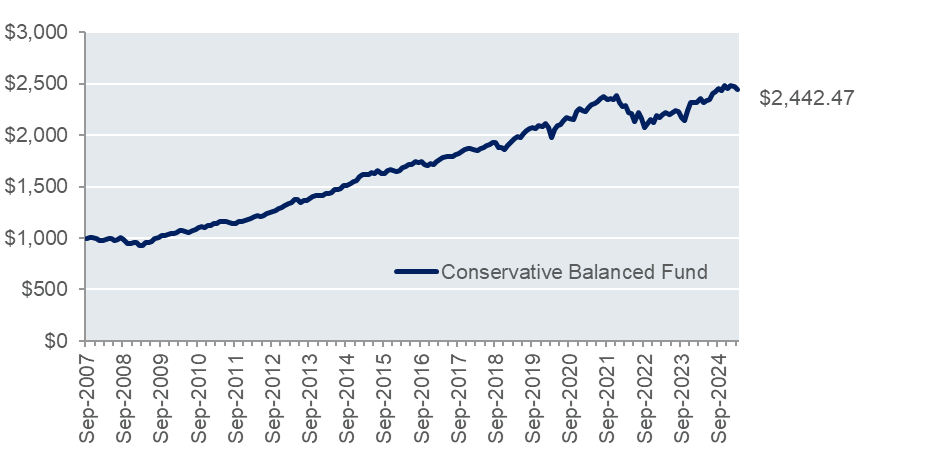 Line graph text description
The x-axis (horizontal) shows annual dates from September 2007 to March 2022. The y-axis (vertical) shows values from $0 to $3,000 in $500 increments. The line is labelled 'Conservative Balanced Fund'. The line starts at a value of $1,000 for September 2007. The trend is downwards until a low of approximately $900 between September 2008 and September 2009. The trend is then upwards, other than small dips between September 2018 and September 2019, and between September 2019 and September 2020. The most recent quarter dips from a peak to finish at a value of $2,283.18 at the end of March 2022.
Performance is after the annual fund charge and before tax and membership fees (if applicable).
See legal information and disclaimers
What does the fund invest in?
The fund invests mainly in income assets (cash and cash equivalents and fixed interest), with some exposure to growth assets (equities, listed property and listed infrastructure). The fund may also invest in alternative assets.
This chart shows the mix of assets that the fund generally intends to invest in.
Pie graph text description
Income assets:
- 15% Cash and cash equivalents
- 50% Fixed interest
Growth assets:
- 4.5% Listed property
- 29% Equities
- 1.5% Other (listed infrastructure)
See the fund's actual investment mix on page 3 of the fund update.
---