How has the fund performed?
Performance as at 31 March 2022
Performance is after the annual fund charge, and before tax and membership fees (if applicable).

What happened this quarter (three months to 31 March 2022)
The fund fell over the quarter, in what was a particularly challenging period for investors in international bonds.
Ordinarily, bonds tend to perform well when equity markets are experiencing volatility, and one might have expected them to hold up reasonably well this quarter. However, global inflationary pressures continued to surge, with fears the Russia-Ukraine conflict may only add to pricing pressures. Uncertainty in markets over the last couple of years has meant that central banks have been slow to begin raising interest rates – until now. This year has seen a clear change in rhetoric from central bankers and, with global interest rates set to move higher over the remainder of this year and into next, bonds sold off sharply.
Global bonds were on the back foot throughout the quarter, as concerns around rising inflation saw investors move to expect further rate hikes from the world's central banks. Generally, bonds do not perform well in a rising interest rates environment.
In the US, the Federal Reserve raised interest rates by a quarter per cent, its first rate hike since 2018. Since then, it has signalled that more aggressive rate hikes may be needed to fully get on top of inflation, which hit 7.9%, a multi-decade high. Inflation in Europe also rose to near record highs. While the European Central Bank refrained from raising interest rates, it has announced an early end to its monthly bond purchases, a form of quantitative easing that has supported the European economic recovery.
The yield on the US 10-year government bond rose by 83 basis points to 2.34%, the biggest quarterly rise in yields since late 2016.
We expect interest rates to move higher this year as central banks try to get on top of inflation, and this will continue to impact the future returns from this asset class. However, it's important to remember that bonds continue to play an important role in any diversified portfolio – helping to provide a solid foundation to your broader investment portfolio.
---
Need more information?
What does the fund invest in?
The fund invests mainly in international fixed interest assets. Investments may include:
fixed interest assets issued by governments or international companies, and
cash and cash equivalents.
This chart shows the mix of assets that the fund generally intends to invest in - 100% fixed interest.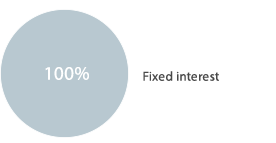 See the fund's actual investment mix on page 3 of the fund update.
---