OneAnswer KiwiSaver Scheme International Share Fund
Fund report as at 31 March 2022
How has the fund performed?
Performance as at 31 March 2022
Performance is after the annual fund charge, and before tax and membership fees (if applicable).

What happened this quarter (three months to 31 March 2022)
It was a turbulent first quarter for financial markets. An escalation of geopolitical tensions in Europe culminated in Russia invading Ukraine, sending global equity markets sharply lower. They later recovered somewhat, on hopes that a ceasefire could be negotiated. Against this backdrop, the MSCI All Country World Index fell 5.1% in local currency terms.
European equities were some of the worst performing, with rising energy prices pushing inflation to record levels, while at the same time, stifling the outlook for growth across the continent.
Meanwhile, US equities also ended the quarter lower, weighed down by both the geopolitical unrest in Europe and rising government bond yields, which dampened equity valuations. At one point, the S&P 500 was down around 15% for the quarter, but a strong rebound in March saw the index finish the quarter down around 5%.
Despite the challenging quarter, there were some positives, including the fund's holding of Bayer, the German pharmaceutical and life sciences company. Shares in the company gained more than 25% over the quarter. In early March, Bayer shares began a strong rally after news it had agreed to sell its pest-control unit to private-equity firm Cinven for US$2.6 billion. The company said it was part of its strategy to focus on its core agricultural portfolio and reduce debt.
Elsewhere, Canadian Pacific Railway was another standout, with shares in the transcontinental freight railway operator rising more than 13% over the quarter. The company got a boost in early March when Bill Ackman's Pershing Square announced it had purchased a stake in the company as it looks to capitalise on reshoring of many industries in the wake of the pandemic, supply chain issues and a growing trend away from globalisation.
Finally, detracting from performance was the fund's holding of Shopify and PayPal. Both companies saw momentous gains in the post-pandemic stock market rally, thanks in part to a surge in online shopping, but as growth stocks started to fall out of favour in the first quarter, these once high-flyers were some of the hardest hit. For the quarter, Shopify fell more than 50%, while PayPal ended nearly 40% lowers.
---
Need more information?
What does the fund invest in?
The fund invests mainly in international equities. Investments may include:
equities in companies that are listed or are soon to be listed on a stock exchange, and

cash and cash equivalents.
This chart shows the mix of assets that the fund generally intends to invest in - 100% equities.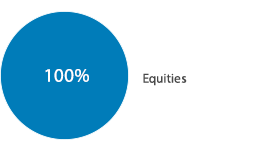 See the fund's actual investment mix on page 3 of the fund update.
---