How has the fund performed?
Performance as at 31 March 2022
Performance is after the annual fund charge, and before tax and membership fees (if applicable).

What happened this quarter (three months to 31 March 2022)
The fund was down over the quarter, in what was a particularly challenging period for New Zealand bond investors.
Ordinarily, bonds tend to perform well when equity markets are experiencing volatility, and one might have expected them to hold up reasonably well this quarter. However, global inflationary pressures have surged, with fears the Russia-Ukraine conflict may only add to pricing pressures. But uncertainty in markets around COVID, and now the Russia-Ukraine conflict, had meant that central banks had been slow to begin raising interest rates – until now. The start of this year has seen a clear change in rhetoric from central bankers, and with significant monetary tightening now expected for the remainder of this year and into next, bonds have sold off sharply.
The Reserve Bank of New Zealand (RBNZ) raised interest rates by a quarter per cent in February, in a bid to combat rising inflation at home. It's the central bank's third consecutive move, and takes the Official Cash Rate (OCR) back to its pre-pandemic level of 1.0%. The RBNZ also signalled a more aggressive tightening path ahead, and indicated it had come close to moving ahead with a 50 basis point hike in February, with Governor Adrian Orr not ruling one out in the future.
Bond investments tend to underperform when interest rates are rising. So, with further sizeable rate hikes now expected, the size and pace of the sell-off in New Zealand bonds was swift. The yield on the New Zealand government 10-year bond rose 83 basis points over the quarter, to 3.22%.
The fund began the quarter holding a defensive, short duration position relative to its benchmark, to protect it from the negative impact that rising interest rates can have on bond investments. Late in January, we closed out this position given how far bond yields had moved higher, and established a modest long duration position. We later moved this back to an overall short position as the central bank suggested that more policy tightening and bigger moves lay ahead.
We continue to hold a significant proportion of the fund in high-quality corporate bonds. While they too lost ground over the quarter, they did offer the protection of income. However, our underweight position to local government securities held back the fund's returns, as this sector also fared better than government bonds.
---
Need more information?
What does the fund invest in?
The fund invests mainly in New Zealand fixed interest assets. Investments may include:
Fixed interest assets in New Zealand dollars, or issued by New Zealand located or incorporated entities and hedged back to New Zealand dollars.
Cash and cash equivalents.
This chart show the mix of assets that the fund generally intends to invest in - 100% fixed interest.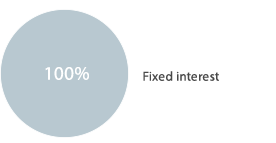 See the fund's actual investment mix on page 3 of the fund update.
---