OneAnswer KiwiSaver Scheme Sustainable International Share Fund
Fund report as at 31 March 2022
How has the fund performed?
Performance as at 31 March 2022
Performance is after the annual fund charge, and before tax and membership fees (if applicable).
What happened this quarter (three months to 31 March 2022)
It was a turbulent first quarter for financial markets. An escalation of geopolitical tensions in Europe culminated in Russia invading Ukraine, sending global equity markets sharply lower. They later recovered somewhat, on hopes that a ceasefire could be negotiated. Against this backdrop, the MSCI All Country World Index fell 5.1% in local currency terms.
European equities were some of the worst performing, with rising energy prices pushing inflation to record levels, while at the same time, stifling the outlook for growth across the continent as the war in Ukraine worsened. For the quarter, the Euro Stoxx 50 fell 9.2%.
Meanwhile, US equities also ended the quarter lower, with the S&P 500 falling around 5%, while the growth-focused NASDAQ 100 declined more than 9%.
The underperformance of growth stocks was highlighted in one of the fund's strong tactical positions, an underweight to streaming service Netflix. Shares in Netflix declined more than 30% after news its annual subscription growth (18.2 million) had slowed to its lowest level since 2016. Moreover, the company continues to face stiff competition in the streaming market from competitors such as Amazon, Apple and Disney.
The fund's allocation to cash also proved beneficial over the quarter. With volatility on the rise (the VIX Index – a measure of market volatility – rose to its highest level in 18 months), defensive assets such as cash tend to outperform.
Detracting from performance was the fund's underweight position to two energy giants, Exxon Mobil and Chevron. Both companies surged more than 35% over the quarter, buoyed by rising energy prices, notably oil, which gained 31.8%, in New Zealand dollar terms. In fact, the energy sector, as a whole was the worst performing for the fund, while its marginal overweight to communication services was the best-performing sector.
Despite the challenging quarter, the fund – managed by Northern Trust Asset Management – remains well ahead of the benchmark, with 12-month returns of more than 10%.


---
Need more information?
What does the fund invest in?
The fund invests mainly in international equities with a focus on environmental, social and governance (ESG) considerations.
Investments may include:
equities in companies that are listed on a recognised stock exchange, and
cash and cash equivalents.
This chart shows the mix of assets that the fund generally intends to invest in - 100% equities.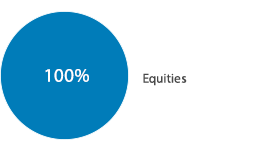 See the fund's actual investment mix on page 3 of the fund update.
---