Protection against fraud
ANZ goMoney, Internet Banking and Phone Banking protection
If someone has accessed and used your credentials for ANZ goMoney, Internet Banking or Phone Banking without your authority, talk to us immediately. We'll look at how we can help and we'll reimburse you if you:
---
Visa Zero Liability protection
With Visa's Zero Liability policy, you won't be held responsible for fraudulent charges or unauthorised purchases made with your ANZ Visa Debit or credit card or card account information—.
In the unlikely event you identify a potentially fraudulent transaction on your ANZ Visa Debit or credit card account, contact us immediately – you'll always be protected against unauthorised use as long as you haven't contributed to the fraud in any way.
Fraud monitoring
We have fraud monitoring systems and a dedicated team who review banking activity around the clock for anything potentially suspicious or fraudulent.
If we suspect fraudulent activity on your account, we'll try to contact you immediately (anytime of the day or night). If we can't contact you, we'll make a decision on whether we need to block your account (to prevent any further losses) until we can reach you.
Two layers of authentication
OnlineCode is our additional security service for ANZ Internet Banking and ANZ goMoney. It provides a second layer of security to verify certain transactions in Internet Banking and the goMoney app. It works by sending a unique code via text message to your registered mobile phone. Then, you simply enter the code to authorise and complete the transaction. This helps us make sure it's you making the transaction, and not someone else. Speak to one of our team to get OnlineCode set up today.
---
How OnlineCode works
When you're doing certain transactions online, we'll send a unique OnlineCode by text message to your registered mobile phone. Then you simply enter the OnlineCode to authorise and complete the transaction. This helps us make sure it's you making the transaction, and not someone else. You can set up your preferences for OnlineCode in ANZ Internet Banking to enable for additional transactions.
If you're registered for OnlineCode it will be required for:

Making payments over $10,000 in ANZ Internet Banking.

Sending money overseas.
Registering for the ANZ goMoney app.
Adding goMoney to a new mobile or device.
Resetting your goMoney access PIN using the 'Forgot my PIN' option.
---
Registering for OnlineCode
We strongly recommend you register for OnlineCode if you use Internet Banking and/or goMoney. The registration process will begin automatically when you first log on.

If you don't have a New Zealand mobile number, or live in a low coverage area which makes receiving text messages difficult, please call us on 0800 269 348 (or +64 4 499 4079 from overseas, charges may apply).
Voice, fingerprint or face recognition identification
Biometric identification means using a unique physical or personal trait like your voice, fingerprint or face, to verify your identity.
---
Voice ID
Allows you to log in to ANZ Phone Banking or identify yourself with our contact centre with your own unique and secure voiceprint. This is a great extra layer of security, especially if you prefer to do your regular banking over the phone.
It can also give you extra security when making payments above $10,000 on the ANZ goMoney app, by verifying your identity using your unique voiceprint.
You can check if you're registered for Voice ID under 'Settings' in the goMoney app. If not, you can call 0800 269 296 to get set up.
---
Fingerprint recognition
Control access to your mobile, device and banking apps using Touch ID (Apple—) or Fingerprint Login (Android—).
---
Face recognition
Control access to your mobile, device and banking apps using Face ID (Apple—) or Face Recognition (Android—).

Visa card security
Visa Secure
ANZ uses Visa Secure to help protect you from unauthorised use of your card online. Visa Secure provides extra security when you're making purchases online with your ANZ Visa Debit or credit card so you can have more peace of mind when you're shopping online.
Visa Secure works automatically, and most of the time you won't notice it. But for certain purchases on sites protected by Visa Secure, you will be sent a single-use Visa Secure Unique Code to your mobile phone. You will need to enter the code online to continue with your transaction.

---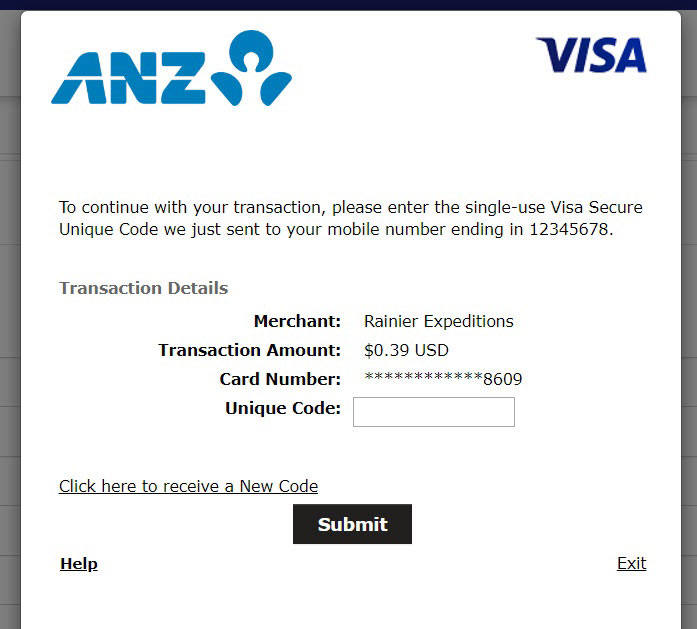 ATM security
There are various security measures in place to protect your personal information and banking while using any of our ANZ ATMs and Smart ATMs nationwide, including:
All ATM screens are designed so it's hard for people to see the information from side on, keeping your personal information private.

There's advanced anti-card skimming technology built into all the ATMs, which makes it harder for fraudsters to install skimming devices to capture personal information like card numbers.
The area around ATMs will be well lit, with the majority monitored by CCTV cameras.
The EMV chip on all ANZ Visa Debit or credit cards allows:
○ you to use the 'Tap & PIN' contactless, which means you're in control of your card at all times
○ the transaction is secured using EMV standards throughout the whole process.
Industry partnering
We're partnered with expert industry organisations such as CERT NZ, who are the leading cyber-security organisation in New Zealand. Working closely with our partners means we're on top of emerging scam and fraud trends, and ensures the information we provide is up to date and relevant.
Fraud awareness
We proactively issue alerts via Facebook, Twitter and the latest scams page if we become aware of a new or emerging scam or fraud risk.
We also provide fraud education sessions to community and industry groups. Contact us on 0800 269 296 find out more or register your interest.

Print the Banking Safely Guide
This guide gives you practical tips on how to spot the red flags to keeping your banking secure.
Print it off and keep it somewhere you can easily reference.
---